42nd TELLURIDE FILM FESTIVAL
MOBILE APPLICATION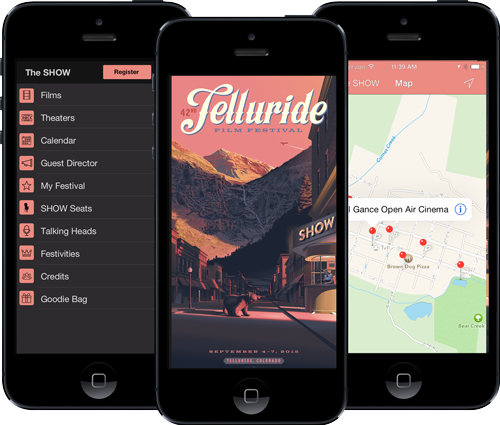 TBAs
Keep up to date with the latest TBAs and sneak previews.
SHOWSeats
Debating between two movies? Want to know which one has the most seats available right now? Just use the brand-new SHOWSeats function, which shows the number of seats available at any given theatre in real time
Talking Heads
Get a behind-the-scenes look at your favorite films with the app's Talking Heads section, which lists all of the Festival guests participating in our Noon Seminars and Courthouse Conversations.
Festivities
Have some downtime? Explore the many activities available to Festival-goers in between screenings with the Festivities section, where you can plan your schedule around things like poster and book signings, one-time only events, and the Festival daily drawing.